Mega Scan Pro is a versatile device as it has three search systems and can detect different types of metals such as gold, silver, bronze and platinum. In addition, it can detect cavities such as tunnels and hidden underground rooms, and it can also detect diamonds and precious stones.
Features of the Megascan Pro program
Scanning capabilities of Mega Scan Pro
Mega Scan Pro's powerful metal detection technology has been ranked first in the world by German and international organizations working in the field of gold mining and metal detection.
Mega Scan Pro is the best specialized device. It was developed exclusively for the detection of various types of metals, gold, diamonds, underground gaps with powerful features and reliable results.
Available languages in Mega Scan Pro
Mega Scan Pro has a simple, user-friendly, multilingual graphical user interface available in eight international languages.
The user can select one of them from the list of languages when the device is turned on. The device will still work in this language even after turning off and rebooting.
The available languages are: German-English-Russian-French-Spanish-Persian-Turkish-Arabic.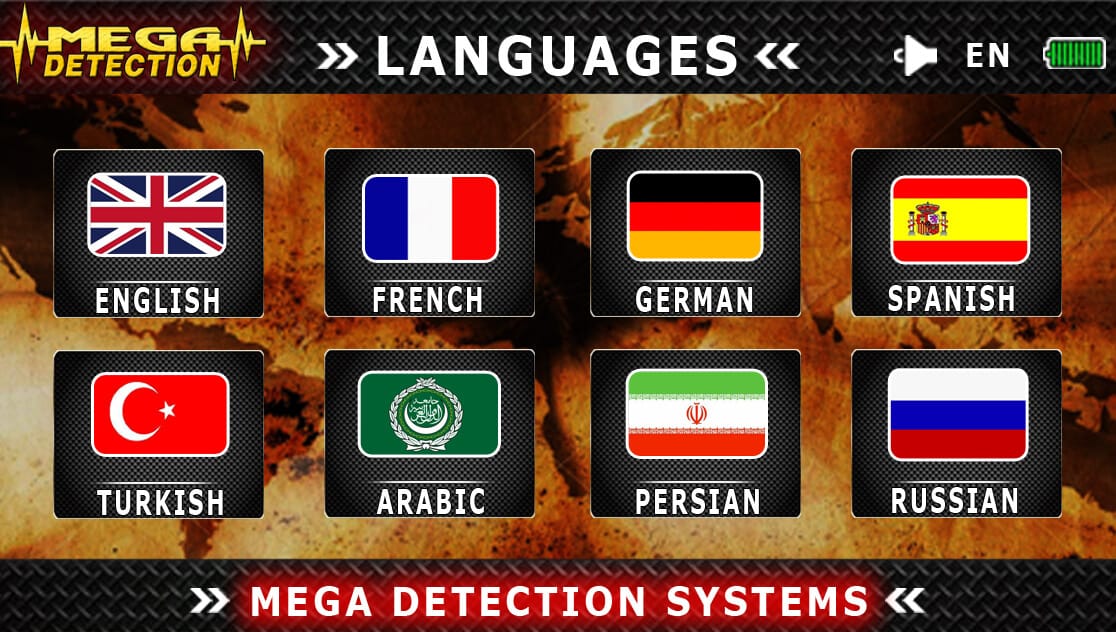 Laser system
This new technology is included with the device. The laser positioning system is used to determine the correct direction of the detected target from a distance and help the user to visually determine its direction.
Long lasting batteries
The Mega Scan Pro works using durable lithium-ion batteries. It can be easily charged and provides 10 to 15 hours of continuous operation time. The customer can order additional batteries. The device is also equipped with a regular charger and a travel adapter.
Search systems in Mega Scan Pro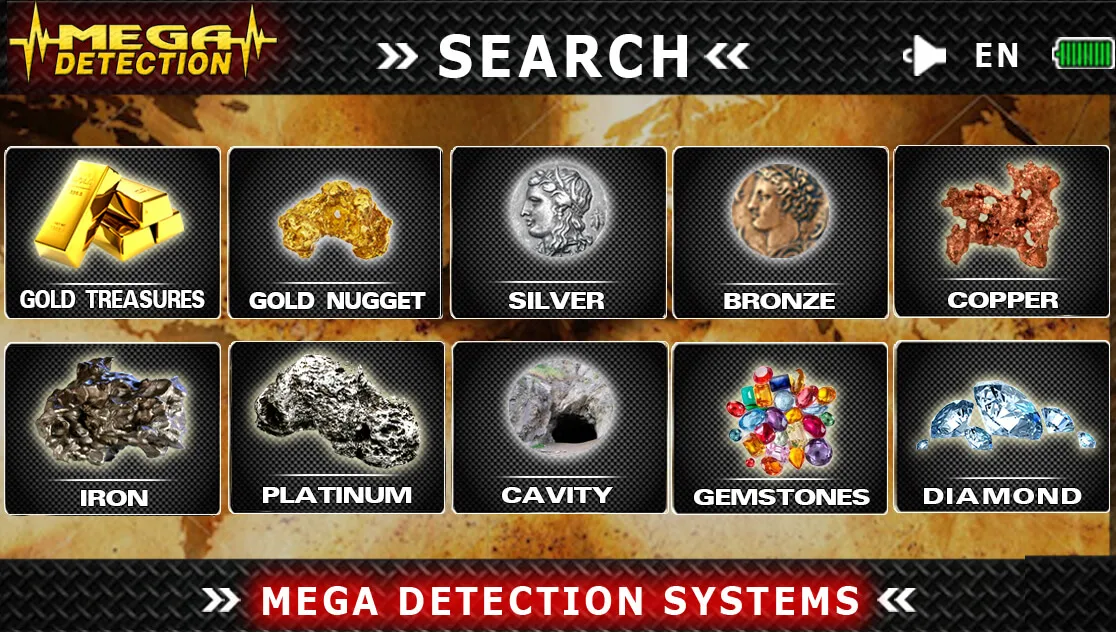 Long-range positioning system
Mega Scan Pro includes an advanced long-range positioning system developed exclusively for this device by Mega Locators. It has a built-in high-precision technology that receives signals emitted by gold, various types of metals, diamonds and precious stones using search antennas. The antennas are supported by an additional radar to enhance the signal.
The Mega Scan Pro metal detector has built-in filters that recognize the accuracy of the signal and confirm its presence.
The signal reception range starts from 250 meters and up to 2000 meters in the Front Range at maximum depths it reaches 40 meters into the ground. It has an accurate determination of the target size and signal strength via an analytical program built into the Mega Scan Pro system.
Using Mega Scan Pro, the user can search for the following ten goals: Gold treasures-Golden Nugget-silver-bronze-copper-iron-platinum-Lumen-precious stones- diamonds.
The search is carried out by selecting a specific search program in the "search" menu and then the device loads the selected program, after which the screen will display a graph with the search distance range on the left side and the depth range on the right side .
For the search distance range, users can choose one of the following values:
250 - 500 - 750 - 1000 - 1500 - 2000 meters.
They can determine the scanning depth range from the following values:
5 - 10 - 15 - 20 - 30 - 40 meters.
MAGNETOMETER system
It has a unique sensitive magnetic system that is used to detect magnetic or ferrous metals such as iron and also underground cavities such as hidden rooms and tunnels.
This powerful system is based on a special sensor (Super Sensor or Magnetometer).
It works using advanced technology designed exclusively for measuring the magnetic fields emitted by buried ferrous metals and converting their signals into sound signals.
Ion scanning system in Mega Scan Pro
Mega Scan Pro includes a unique ion scanning system that is used to detect ion radiation emitted by long-buried gold treasures and ancient artifacts in the ground.
In general, every metal object buried underground has an ionic field around it, and the radiation emitted by this field increases over time.
Thus, the longer the object is buried underground, the greater the Ionic field surrounding it.
Mega Scan Pro gold detector can detect ion field radiation emitted from long distances, using a powerful small sensor that receives radiation, converts it into an audio signal and displays an indicator on the screen.
Technical specifications of the Mega Scan Pro device
Screen: 4.3 inch TFT screen
Screen lighting: Led
Microprocessor: Arm
Operating frequency: 168 megahertz
Control buttons: Touch screen
Scanner antennas: Chrome plated, one pair
Operating voltage: 3,7V - 4, 5V
Rechargeable battery: 3،7V، 3600 mAh Li Ion
Symbolic currency: 400 mAh power supply
Charging adapter: 5V, 2000mAh, charging indicator with LED (when charging is finished, the LED dims completely)
Automatic charging adapter: Input: 12V, output: 5V, 1000mAh USB
Weight: 6.3 kg (including bag weight)
Waterproof ABS
Signal booster radar
Get Mega Scan Pro Metal and Gold Detector from European Technology Group with best price.